OI Glass Stock is still a buy at 7X earnings (NYSE: OI)
Introduction
I love packaging companies and have been bullish on glass container producers for some time now. Unfortunately, the furnaces use natural gas, so the higher production costs create a (temporary) headwind, but fortunately most producers actually have were able to pass this higher cost on to their customers, as first quarter results were better than expected for most companies, including OI Glass (NYSE:OI) which posted a strong first-quarter result and was then able to raise its full-year guidance accordingly.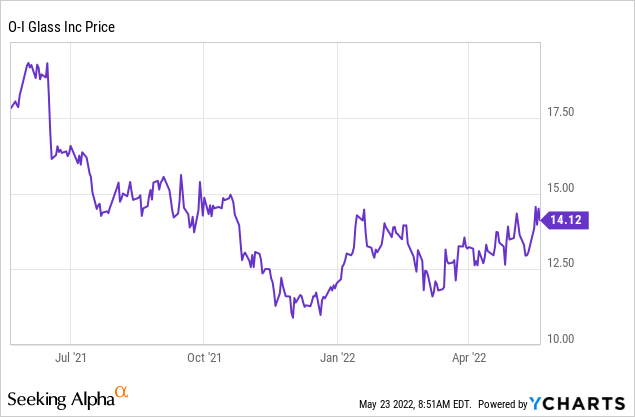 First quarter results exceeded all expectations
I was looking forward to seeing OI's first quarter, as I wasn't sure how the company's margins would have been affected by higher energy spending. In hindsight, there was nothing to worry about as revenue increased by around 13% while COGS increased by just over 10%, which caused gross profit to jump by almost 25%. at $304 million.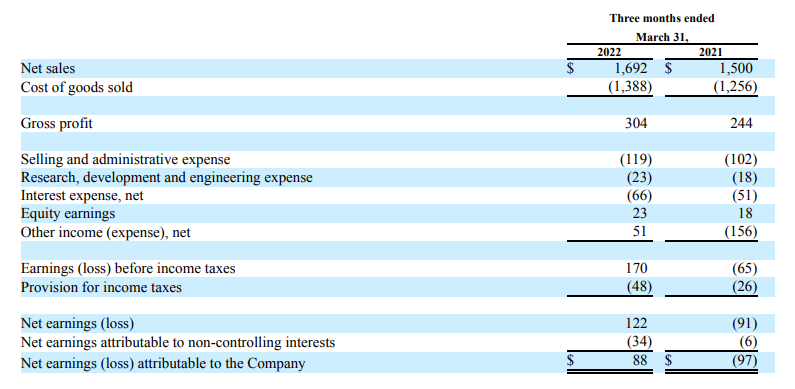 There were other cost increases, for example, selling and administrative expenses increased to $119 million, while net interest expense also increased. On the other hand, there was no one-time impact on net income, and OI Glass reported pre-tax profit of $170 million and net profit of $122 million. Of the $122 million, about $34 million was attributable to noncontrolling interests, meaning net income attributable to OI Glass shareholders was $88 million or $0.56 per share. And that's not too shabby for a company trading at less than $15/share.
In my previous articles, I have always focused on the company's ability to generate positive free cash flow. This is necessary to keep net debt under control, as the balance sheet is my only "concern" when it comes to an investment in OI Glass. The situation is fully under control as the net debt is slowly decreasing while the solid EBITDA results also allow the debt ratio to be kept under control. But in order to further reduce net debt, the company must generate positive free cash flow.
In the first quarter of 2022, reported operating cash flow was negative $73 million and this was due to a $259 million investment in working capital. On an adjusted basis, operating cash flow was $186 million, and after deducting $96 million of investments, underlying free cash flow was approximately $90 million, of which much of it was attributable to non-controlling interests.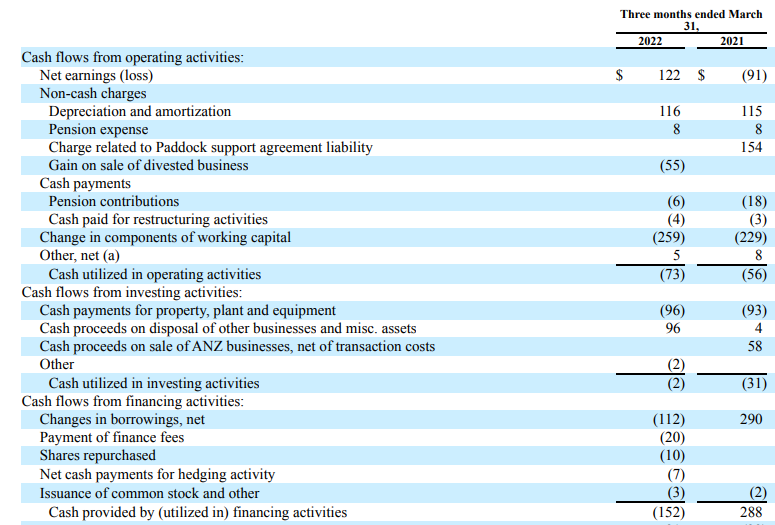 Attributable free cash flow income was lower than attributable net income because the income statement contained a $55 million gain on the disposal of a business. This gain is obviously not a positive cash inflow, but OI Glass sold the division for cash proceeds of $96 million and this is accounted for as an investing cash inflow. Additionally, keep in mind that positive adjusted free cash flow also includes a $10 million cash outflow related to pension payments and restructuring-related payments.
Due to the investment in working capital items, net debt has not decreased, but this will occur later this year once working capital is converted into cash. In the first quarter of this year, for example, we see that OI has reduced its debts by more than $40 million while we see an accumulation of $208 million in accounts receivable. Inventory levels increased only slightly, so the working capital requirement was primarily related to the timing of payment for glass containers delivered in the first quarter, and we should see improved cash flow generation in during the current quarter, because the invoices of the first quarter will be paid in this quarter.
At the end of the first quarter, OI Glass had $519 million in cash and gross debt of just under $4.7 billion for net debt of just under $4.2 billion. dollars. With EBITDA just over $300 million in the first quarter and on track to generate full year EBITDA of $1.2 billion, the leverage ratio of 3.5 is relatively high but not extreme, and since the company does not pay a dividend, the free money coming in will quickly reduce net debt and improve the debt ratio.
The glass container market is on fire and OI Glass should take advantage
Most glass container producers reported strong first quarter results on strong demand for the products. Furnaces are currently producing at nearly 100% capacity, and it is now up to companies to ensure that their pricing strategy protects margins.
OI Glass now expects second-quarter earnings of around $0.55 to $0.60, which would be slightly higher than EPS of $0.54 in the second quarter of last year. According to OI, it is assumed that higher selling prices "will more than offset cost inflation", which is very encouraging to see in writing as it means the company expects to be rather sheltered. higher energy costs.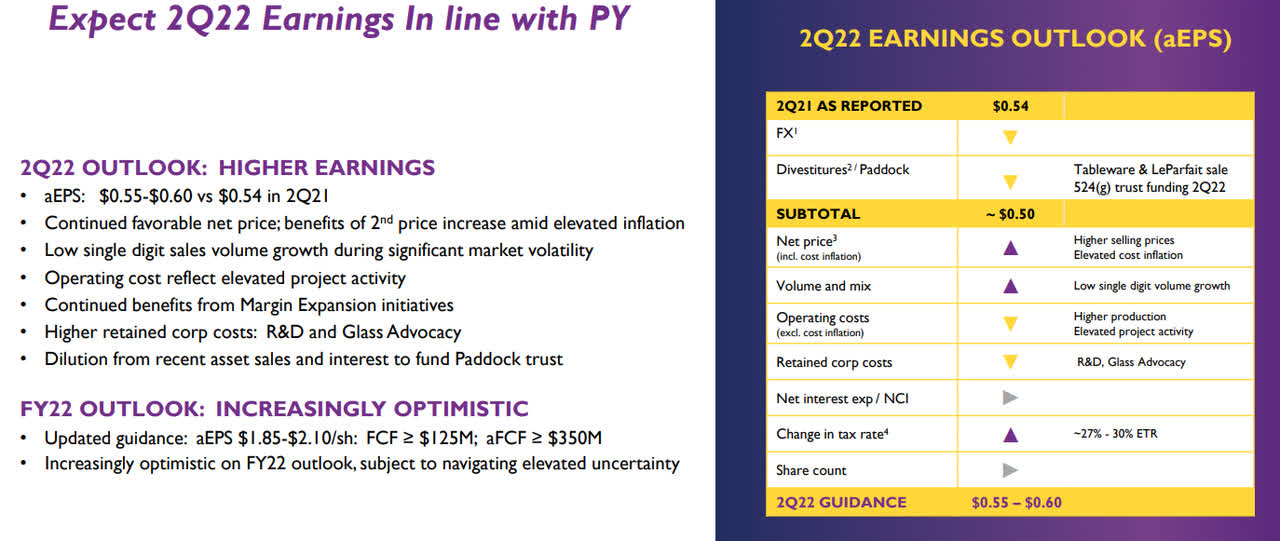 The upper end of the FY2022 EPS guidance has also been raised from $2.00 to $2.10, meaning the new full-year EPS guidance calls for EPS of 1.85 to $2.10. It's perhaps a little surprising that OI Glass hasn't raised the lower end of the forecast, but I think that might happen once Q2 results are in and confirm the trend. Should OI's projections for the second quarter materialize, the company would be on track to reach the upper end or even exceed the raised upper bound of $2.10.
Investment thesis
As mentioned in a previous article, this will be the last difficult year for the net debt position, as OI Glass will have to deposit just over $610 million in cash into the trust fund to settle asbestos-related claims. That will happen this quarter, so don't worry when you see the net debt position increase in the second quarter. The worst should be behind us now.
Almost all of the investments made by OI are related to maintenance investments and additional growth investments (except for additional investments in MAGMA technology, a new fusion procedure), and the emphasis on generating Positive cash flow will be a huge help for the balance sheet.
Trading at just 7 times earnings, OI Glass does not look expensive. Net debt is high but expected to decline fairly quickly after the Asbestos Trust is funded. But even after including that financing and assuming net debt of $4.8 billion, the current EV/EBITDA ratio of 5.7 seems very reasonable, especially when you consider that the company does not expect to be affected by cost inflation (energy). I'm still a buyer at these levels.